MEET THE EXPECTATIONS OF YOUR STUDENTS
With our Digital University solution we're focused on helping Higher Ed institutions create next generation educational solutions that will enable them to deliver a richer, interactive and more engaging learning experience to their current and future students... throughout their entire learning journey...
By using the latest digital and mobile devices.
Our Digital University solution for higher education can help you transform your students' academic experience throughout their academic journey, from student to alumni… to give your institution a competitive edge.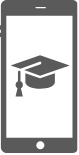 Digital and Mobile Strategy for Academic Institutions

Interactive Creative + Technology Services

Instructional Design / Learning Architecture

CMS + LMS + Digital and Mobile Integrations

Course App Development

Training
Mobile University Solutions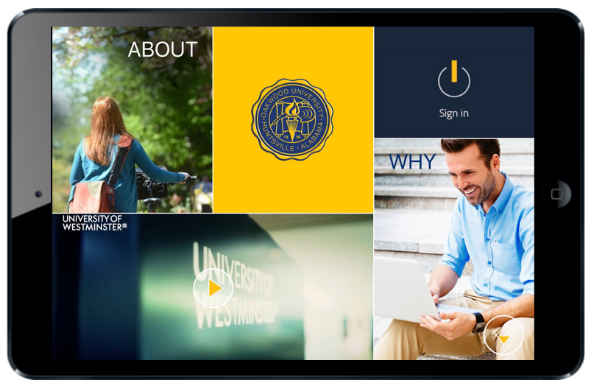 LMS Integration
Our Mobile University solution can integrate with existing LMS systems to take advantage of existing infrastructure investments. These integrations can lead to a richer interaction between the student and the courseware content, while using the LMS as a backend system to feed and capture student data.
Home
Customized app portals can provide access to all of the services the school offers or to single services, such as courseware and assessments, for example.
Student Journey Experience
Our Mobile University solution can address solutions from the recruiting stage of prospective students to continued engagement with Alumni.
Fresh Content Delivery
Our Mobile University can also integrate to any of your departments to keep students informed with the most current school news and events.
On Campus
One of the key areas of engagement is with current students, where campus information, news, events, athletics, and other school information can be distributed.
Offline Content and Rich Media
One of the key advantages of our Mobile University solution is the fact that it allows to deliver an offline content experience, enabling students to interact with content, including videos and other rich media, even when they are not connected to the Internet or a WiFi network.
Continued Engagement with Alumni
Your Alumni are your ambassadors as they inspire potential students, refer new students, help place graduating students, and provide financial gifts throughout their lives. Our mobile solutions are helping institutions create a new level of engagement with their Alumni.
School Life Engagement
Whether you are holding athletic events or special gatherings, our solution can deliver a social calendar environment that is relevant to students and prospects.