Summary
Lyssé came to Drupal Connect to integrate the Blue Cherry API into their Drupal Commerce site. Their goal was to fix existing distribution issues and keep the site functional while introducing this new feature.
Challenge
Lyssé hoped to streamline operations, but before Lyssé deployed the integration deployment, the Lyssé team contacted Drupal Connect's expert Drupal developers for some due diligence on the changes.

Drupal Development

Theme Update

User Experience Update
A Corporate Challenge, Turned Labor of Love
Lyssé had an issue integrating fulfillment and their site which hamstrung them - this kept Lyssé from allowing their ecommerce to move further toward automation.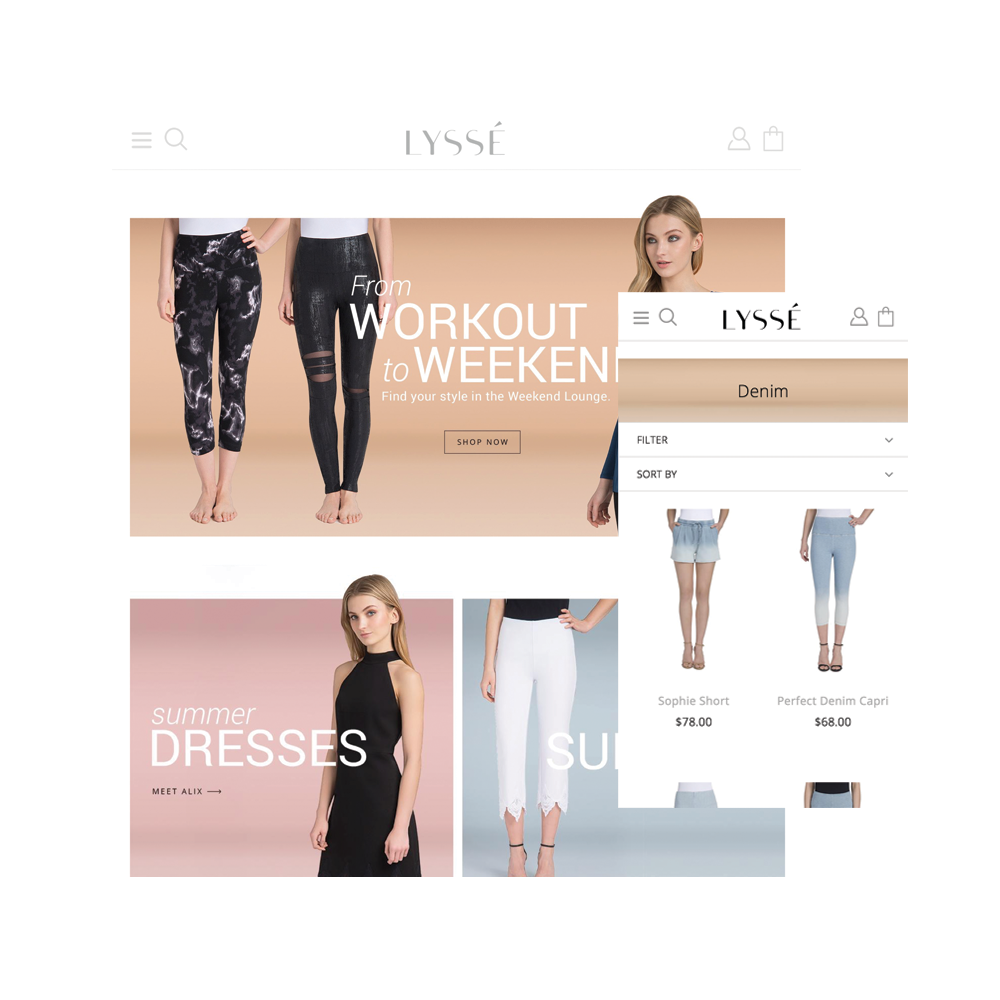 Insights
An ecommerce site selling women's apparel made from patented fabrics, Lyssé came to Drupal Connect in April 2016 to integrate Blue Cherry API. It was shelved, siding instead for long-term support of their website. To date we've completed 130 tasks.
Clothing for Every Woman
Lyssé was created in November 2009 after its founder, Beth Gold-Cohen, gained weight during her cancer treatment. Her pants became uncomfortable, limiting and constraining her movement. On account of extreme ingenuity, and insight gained during her time as a buyer and merchandise manager for Macy's, she fashioned a pair of comfortable leggings, sewing a control-top undergarment in to what were a standard pair of leggings.
At that moment Lyssé was born. Beth set out on a mission to build custom leggings from the inside out, using fabrics she later patented. These leggings were going to be as flexible, resilient and unique as the women who wear them.
Starting its first year with $900,000 in earnings, by 2012 it had reportedly brought in $4 million in sales. Now, with a full range of apparel, from dresses and tops to jackets and bottoms, Lyssé is sold in more than 2,000 retailers in North America, Canada, Australia, and Europe, in addition to department stores; Dillards, Bloomingdales, Nordstrom, and Lord & Taylor.
In 2013, Lyssé was bought by Indianapolis-based E&A Industries.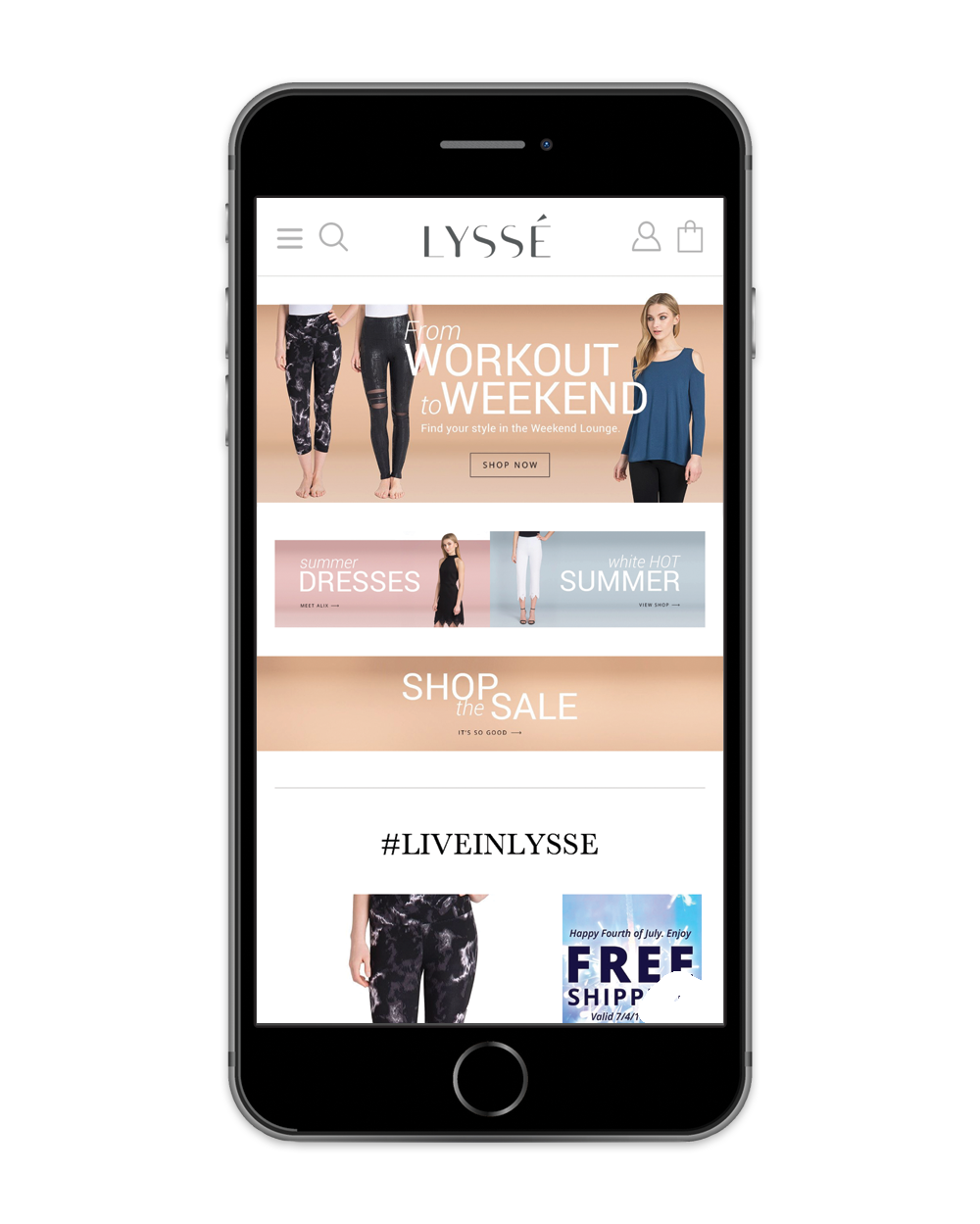 Contact Us To Find out Why Lyssé and Other Companies Trust Drupal Connect
The Solution
A Corporate Challenge That Turned Into A Labor of Love
When Lyssé approached Drupal Connect in 2016, they had a specific tool in mind: an integration with the Blue Cherry API to streamline Lyssé's operations.
Drupal Connect's team of Drupal experts went to work, successfully paving way for the integration, but before deployment the project was put on hold. The changes required of the site were enough to cause Lyssé to rethink adding the API.
Though their site was running well on Drupal 7, Lyssé's site managers were not fully familiar with the stock Drupal administrative back-end. This posed challenges for the curation of the Lyssé homepage. Despite running on an up-to-date version of Drupal, their homepage suffered because of its non-mobile-friendly nature and failure to route consumers to certain sections of the site. This, coupled with Lyssé's inability to easily swap out images, text and blocks that highlighted weekly/special occasion sales, hampered growth - Lyssé was doing well, but knew they could be doing better.
Choosing to do away with the Blue Cherry API project, Lyssé instead opted for an approach with fewer changes to the site's core functionality. This way forward felt most comfortable for all parties. Lyssé feared implementing new, custom code could break the Lyssé site - ecommerce being mission critical, the site being down would be a blow to the company.
Lyssé is methodical when tackling issues with their site and doesn't make decisions lightly. Drupal Connect matched process to account for Lyssé's aversion to risk. When receiving a request from Lyssé, Drupal Connect spends additional time conducting Quality Assurance in multiple release environments to be certain there are no regression bugs . Our Drupal developers understand that any bumps in the road could have lasting impacts on the Lyssé brand.
We are a support system for our partners, not just Drupal experts.
Over Lyssé's and DrupalConnect's year-long partnership, DrupalConnect has solved over 130 issues surrounding barriers to purchase, issues in distribution - core/module updates, fraudulent order investigation and mitigation, commerce tracking errors, shipping address faults, coupon editing/adding, checkout and cart issues, XML feed updates, inventory/site rendering, payment issues, and trouble with Google Analytics, just to name a few.
The lack of familiarity with the back-end was causing issues with the homepage so we worked with Lyssé's team to build a solution. The homepage redesign implemented is now mobile-friendly, and the challenge to swap out images, texts and offers has been mitigated. With one easy administrative control page, Lyssé is able to change any part of the homepage and quickly promote their weekly/special occasion sales, and easily get customers into those sections.
Drupal Connect's goal was to build something for Lyssé to allow site managers to take back control of the brand and content, while optimizing backend workflows - and we succeeded.