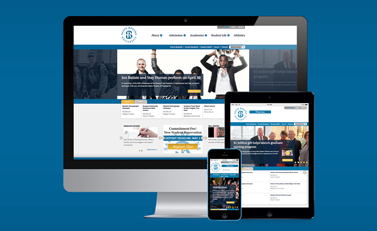 Drupal Connect created the Information Architecture and User Experience for Salve Regina
Premium Drupal Design & Redesign Services
Your organization deserves the most polished and professional Drupal website. Your site should be visually appealing and easy to use, especially on a mobile device. It should meet your business goals and exceed the demands of its website visitors.
Whether you need to redesign your existing Drupal website or have a brand new Drupal design you're ready to implement, the Certified Drupal designers and developers at Drupal Connect can create a beautiful, intuitive, responsive website that meet will your business objectives and make updating and site management a breeze.
Design and Redesign Costs
Drupal Connect provides competitive pricing for our world-class, premium Drupal design services. We offer free one-on-one consultations with our professional designers.
The Process
Discovery & Analysis
Drupal Connect will help you define the goals and objectives for your website design or redesign, which will allow us to estimate the time it will take us to complete your project
Audience Journey
We will conduct an audience journey, mapping the paths users may take through your site.
Drupal Connect created a custom Responsive Design for I Do, Now I Don't
Design and Development
Our team of Drupal designers and developers will begin designing and properly coding the new website to make it responsive, lightning fast, and visually stunning on any device.
Testing and Deployment
After the Design and development phase, the Drupal Connect team will test your website on a testing server making all final edits and fixing any bugs before the site launches.