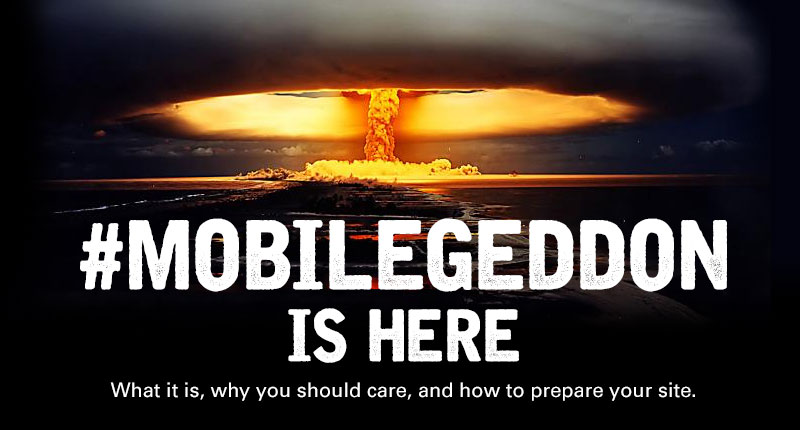 First, let's get this out of the way. If your site does not pass this test: Google Mobile-Friendly, then this article applies directly to you and your site.
## UPDATE ##
Google announced on Tuesday, May 6th 2015 that mobile search traffic now exceeds desktop search. http://www.businessinsider.com/google-search-traffic-mobile-passes-desktop-2015-5
What has happened?
Google has changed the way that it ranks pages in Google Search that are not mobile friendly. This means that if your site is NOT mobile friendly, you WILL see a decline in mobile search traffic. Some estimates I have seen put the decline in traffic somewhere between 50% and 70% from mobile sources.
Why should I care?
Well the immediate implication of Google's "Mobilegeddon" Search Algorithm change is that you will see less mobile traffic, ergo less users seeing the content and/or products on your site. If my site is selling products, I can assume a hit to my site's ROI given that the conversion rate on mobile users is higher than that for users on desktops. Users tend to shop longer on mobile devices. 33% of all ecommerce purchases were made on a smartphone in 2013. (See: KissMetrics).
If my site is used to generate leads for my sales team then I end up with a sharp decline in mobile users reading through available information on my goods and services. This means less leads, less conversions, and less for your sales team to push through your sales pipeline.
What is the timeline?
Google has already started rolling out the algorithm update to all of its datacenters. The estimated time before the "mobilegeddon" update arrives in full force is 1 to 2 weeks. We should see mobile search rankings change starting this week and go on until they normalize in the next month.
Google's Potential Motiavtions:
According to Business Insider, Google's advertising growth is in decline. This could be a way to make their ad platforms more relevant.
What the algorithm change does not do:
Change normal search results
Change Google AdWords page rankings
Remove your site completely from mobile results (it will just be below the mobile optimized)
Change Brand based relevance in the algorithm (your brand name should still come up in search near the top)
(See: SearchEngineLand)
How Drupal Connect can help:
Drupal Connect has a dedicated team of Drupal SEO Experts on staff ready to evaluate your site's needs, including making your site pass the Google Mobile-Friendly test. Named a top Drupal development firm by Clutch.co, Drupal Connect has the Drupal expertise to deliver a mobile-friendly website with a rich user experience that drives conversion and creates high return on inverstment for its clients.
Here is a quick, Drupal specific checklist:
Check that your mobile-friendly theme is live (and not still in dev or test).
If you don't have a mobile theme, it is time to give a Drupal Developer like Drupal Connect a call to build you something on a responsive base, like Omgea.
Check each page of your website to make sure that basic pages are also mobile friendly and you have no explicitly defined CSS rules that would prevent the Drupal site from being given a mobile-friendly pass.
Make sure your robots.txt file is not preventing Google's mobile search crawler from indexing your site. 5. Fix all exisiting 404 errors reported by Drupal (this includes issues with rss feeds generated by views)
You can keep up with the rollout on Twitter under the hashtag #mobilegeddon.